How Upgrading Your Emotional Intelligence Can Improve Your Romantic Relationships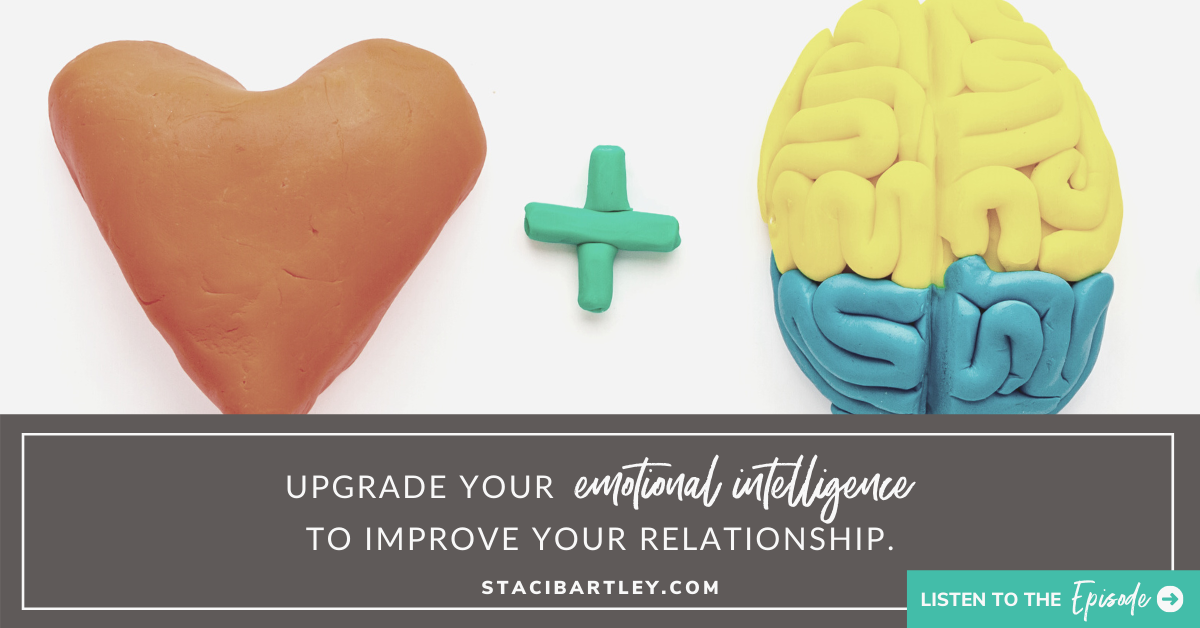 Emotional intelligence may be a term that you've heard many times, but have you ever stopped to think about what it really means and how much it affects your relationships? If you're like so many of us, the answer is probably no. I sure didn't know what it meant until I began to study human behavior. And, I had no idea how important it was or how it was responsible for so much of the heartache that I had experienced in my first and second marriages.
Maybe, like me, you've found you and your partner:
continually have the same recurring arguments;
get stuck obsessing about the details of what happened instead of moving forward in your conversations; and/or
are unable to come together to find solutions that actually improve your relationship...
Do you ever feel like what needs to be done seems so obvious? Or you can't figure out why your partner won't start doing that thing you just know is going to be the solution to all the problems in your relationship?
In past relationships, I'd spend hours trying to figure out why my partner would do and say the things he was. Then when we would fight, and I wouldn't be able to figure out why there were always discrepancies in the details of what was actually taking place. Things were somehow twisted, causing me to ask myself from time to time, am I crazy? Like, am I the only one seeing this?
This all created so much confusion in me and I became more and more unhappy with myself and my marriage. So, I became more intent on figuring my partner out.
But listen, you've got to know that trying to figure your partner or spouse out is like looking to them to figure out why it is you have a headache.
Ready to Reset your Relationship in 5 Days Flat? Join us from March 8-12. Register now!
In this week's episode, we dived deep into understanding not only our physical bodies but our emotional selves as well. It's time for us to upgrade our emotional intelligence.
You're going to learn that having a physical experience AND an emotional experience is normal. Because we all have the capacity. But to solve our emotional problems, we need to stop trying to figure our partners out, and instead look to why it is we're feeling and experiencing pain inside of our emotional selves.
I know this can seem like a complicated journey, but trust me, we've broken it down into simple terms. So simple. You're going listen and go, "Oh, this makes so much sense." I promise.
The truth is, most of us are much more comfortable talking about the physical aspects of life, rather than the emotional stuff. But, that's not because we aren't capable of it, it's just because we've never been taught how.
Gaining an understanding of our emotional intelligence is an imperative (and often neglected) part of building healthy, loving relationships.
Join Tom & me where we will share exactly what you need to do to start taking care of your emotional well-being and feeling better so that you can show up better.
Have questions about love and relationships? You can call us live during the show (Thursdays 1 p.m. PT) at 425-373-5527 or text your questions here: 601-207-0080.
In this episode, we're covering several key topics to help you upgrade your emotional intelligence, including:

The reason why focusing on what your partner is or is not doing will not make you happy.
Understanding that if we show up in our relationships feeling good about who we are, then we can't hurt people and feel good about ourselves.
What to do if you often feel coerced and leveraged in your partnership.
How to use your emotional intelligence to be the best you in your relationship.
Miss our past episodes? Check them all out here.

Fairy Dust - the #1 thing I teach my VIP clients to stop arguments in their tracks.
Relationship Check-up - tired of re-hashing your issues with your partner without making progress? Schedule your check-up today!
The song we played during the episode was: You Don't Know Me By Now by Harold Melvin.
Check out our Love Shack Live Playlist for all the songs we play on the show:
Subscribe to the podcast!