Episode 81: The Power Of Your Energy & How To Use It To Improve Your Relationship Health
Prefer to read podcasts? We now offer a show transcript!
Just slide the toggle to show or hide the transcript.
Hide Transcript
Show Transcript
Most of us are unaware of the power of our energy and especially about how it affects our relationships.
The truth is, our energy is always flowing and we expend a lot of it in our relationships. If we don't understand our own energy or the hidden energy interactions that happen between us and our partners, it can be hard to understand why we have a hard time maintaining the health of our relationships.
In this week's episode of Love Shack Live, Gail Behrend is joining us to discuss how we can harness the power of energy in our relationships to create stronger connections and improve our overall relationship health. Whether you are looking for ways to maintain healthy boundaries with your partner or struggling to communicate effectively, this episode will offer valuable insights and strategies for creating healthier relationships.
Gail Behrend has been an energy healer for 25 years and is joining us to share her insights on how our energy has a huge impact on our lives. She has a fantastic story of how she went from being an engineer and total skeptic to a seeker of wisdom and truth in the energy world. Gail will provide tips on how to become more aware of your own energy and how to use it to create positive change in your relationships. This show will be a great resource for anyone interested in understanding the hidden dynamics at work in their interactions with others.
By the end of this episode, you will know how to use your energy to improve your relationship health. You will have practical tips and tools that you can use to create more positive relationships in your life.
Gail Christel Behrend is an engineer, author, speaker, and energy healer. Midway through a successful 20-year engineering career, she experienced a spontaneous spiritual opening that changed her life, transforming her from skeptic to seeker.
Her spiritual journey eventually led her to explore human energy and alternative healing as a side vocation. She is a graduate of the Barbara Brennan School of Healing (BBSH) in Florida and has been an energy practitioner in Vancouver, Canada for over 25 years.
In addition to her corporate training development business, she also offers public workshops on energy and is a certified Infinite Possibilities trainer based on the bestselling book "Infinite Possibilities – The Art of Living Your Dreams" by Mike Dooley.
Gail is passionate about teaching people about our subtle energy nature and empowering them to own their energy so that they can truly own their lives. She lives and works in Vancouver with her husband, two children, and many animals.
In this episode, we're covering several key topics about harnessing the power of your energy to improve your relationship health, including:
What exactly is personal energy?
Why is energy awareness important?
Is there any scientific proof that subtle energy is real?
How does energy awareness relate to emotional intelligence?
What are some ways energy affects my relationship?
Join us this week in the Love Shack and start using your energy to improve your relationship health today!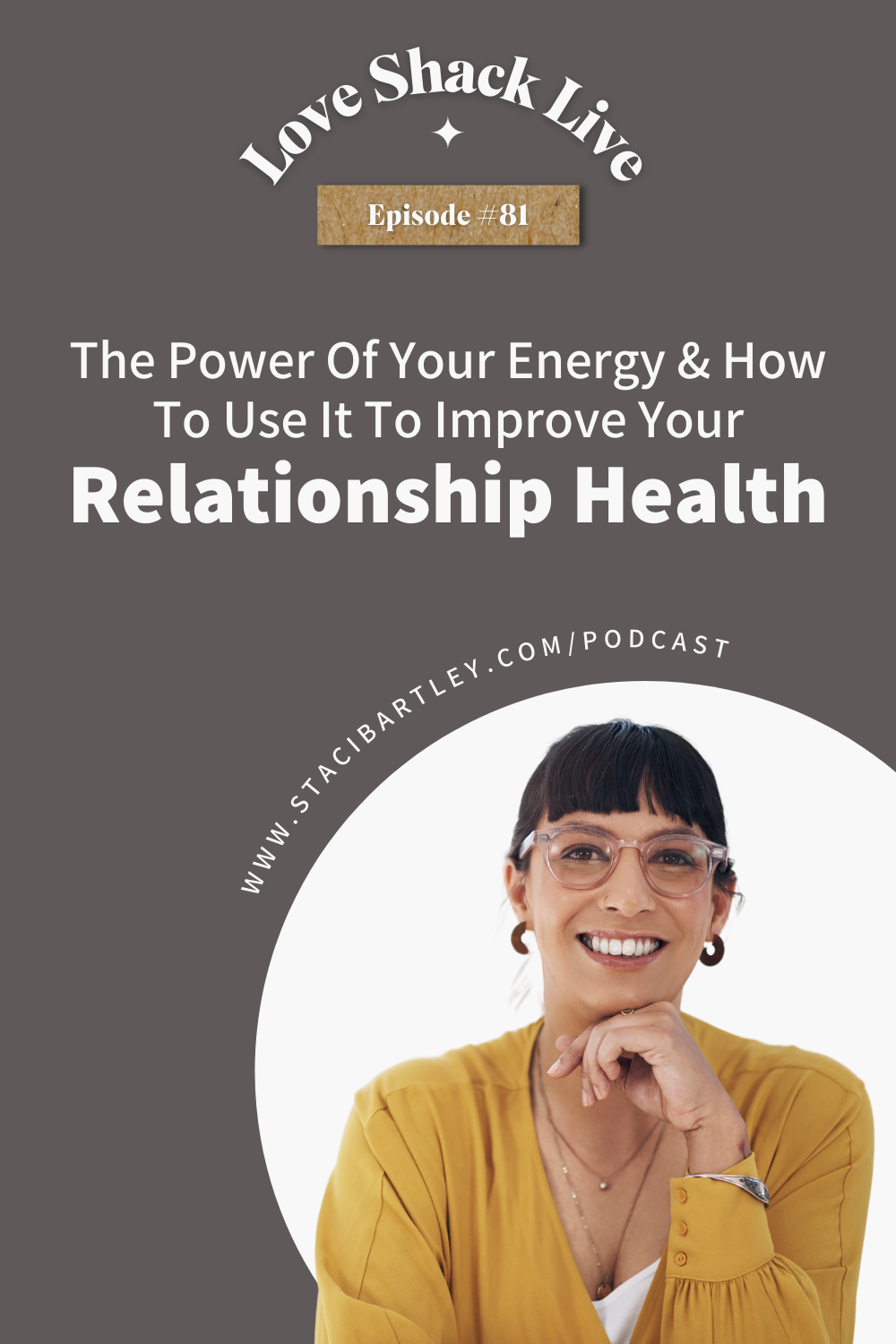 Subscribe to the podcast!